Expert skincare and aesthetics: facials, hair removal and permanent make up, in Marin
visit
Rosacea
Clinic Marin
services
appointments
products
Facial Care
Signature Facial expertly tailored to the needs of your face, using the latest, most advanced products and procedures. Cleansing, exfoliation, mask, anti-oxidant treatment.
Approx. 90 minutes $ 165
Sun Worshipper This is the ultimate in sun damage reversal. This is a Phyto-DNA facial designed to help deeply hydrate photo-damaged skin. Includes Vitamin C mask and eye contour treatment.
Approx. 90 minutes $ 195
Runaway Weekend Want to get in shape for a special weekend, date or interview? Try a quick light facial that will rejuvenate and increase vibrance. Recommended 3-4 days in advance.
Approx. 90 minutes $ 162
Take Your Vitamins Your skin needs all the nutrients you can give it. Skin is normalized, detoxified, fine lines minimized, essential nutrients restored resulting in smoother supple skin. Includes vitamins/antioxidants, exfoliation.
Approx. 90 minutes $ 150
Microdermabrasion Revolutionary advanced exfoliation treatment polishes the skin, helping it to rejuvenate as smooth new skin. Minimizes fine lines and imperfections, acne, scarring and superficial pigmentary spots. Best results achieved with 6-12 treatments over time. Includes a lunch time peel.
Approx. 40 minutes $ 108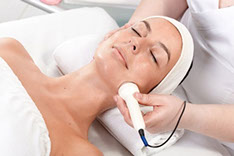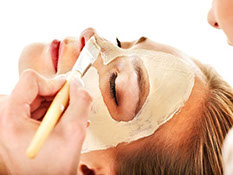 Special Treatments
Mini Facial $ 95
Décolletage $ 120
De-Pigmentation Treatment / Brightening $ 197
Acne Treatment $ 140
Hand Renewal $ 45
Lip Treatment $ 60
Rosacea Dr. Pugliese Facial $ 185
Chest and Neck Peel TCA (Strong) $ 85
Flower Peel (Gentle) $ 60
Rosacea Scalp Treatment $ 50
Back Treatment $ 120
Back Peel $ 100
Olive Oil Body Glow $ 80
Seaweed Wrap $ 95
Lash Tint $ 30
Brow Tint $ 35
SERIES OF TREATMENTS
A series of treatments is recommended as the foundation to any serious skincare regime. Ask about the details of your personal program.
4 Series – a perfect starter kit $560
6 Series – a 10% reduction in cost $810
12 Series – includes 2 complimentary treatments $1,680
By appointment only
Tuesday - Friday 10 am — 7 pm
Saturday 10 am — 5 pm

Directions
Appointments
Rejuvenate your Skin
Relax your Body
Recharge your Mind
Natural looking beauty that's easy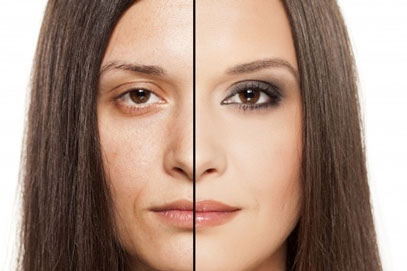 PERMANENT MAKE-UP
When permanent make-up is done well, it looks natural and is even better looking than regular make-up because it's subtle. You are always ready to go. Compliments people with active lifestyles and those have who have lost their eyebrows due to aging and natural fading.
Procedures Range from $ 150 - $ 700
Rather than being superficial, permanent cosmetics sit just below the top layer of the skin, in the dermal layer. This eliminates smudging, or running into the eyes. The highest standards of sterilization are employed and only new disposable needles are used in this process, also known as micropigmentation.
Permanent cosmetic solutions are especially suitable for those troubled by allergies, as all our pigments are hypo-allergenic. If you wear contact lenses, enjoy athletics, or perhaps suffer from limited vision or dexterity, you owe it to yourself to see just how good you can look...all the time.
Eyebrows - if your browline is not quite perfect, we have a real solution. We are experts at recreating superfine hairlines that recreate natural looking eyebrows.
Eyeliner - do you feel naked without eyeliner ? You can have enhanced eyes all the time.
Lips - subtly enhance lips, improve the lines and enhance fullness and color.
Scars - we can help correct scars and diminish their appearance.
First step is a free consultation.
Hair Removal and Waxing
Perfect Eyebrows Consultation on shaping will define what you want to achieve. We measure exactly for alignment, trimming and perfect the lines of the eyebrows.
Approx 15 -45 minutes $18.00 - 45.00
Great Legs Nearly painless leg waxing. Desensitizing oils help to make this as easy as possible. Leg waxing is much smoother than shaving and lasts for over a week.
Approx. 30 - 45 minutes $40.00 - 50.00
WAXING SERVICES
Chin $ 18
Lip $ 18
Full Face $ 45
Brow Design $ 30
Lip $ 18
Arms (upper or lower) $ 45
Full Arm $ 68
Lower Leg $ 55
Full Leg and Bikini $ 105
Back/Chest $ 75
Underarm $ 35
SPECIALTY /BRAZILIAN WAXING
The Runway A popular choice, bikini style, with a subtle landing strip.
40 - 60 minutes $ 45.00 - 85.00
Shaped -heart, rock star, striped -your imagination is the limit.
40 - 60 minutes $ 45.00 -125.00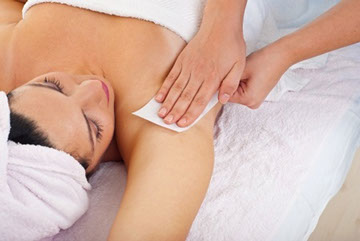 Desensitizing oils help to make hair removal as easy and painless as possible.
Expert Personal Skincare
I have more than 20 years experience working and learning as a skin care professional. I have chosen to remain very hands-on and as a result, a visit to my offices will be a personal experience that is likely to be quite different from the sort of treatment you may be used to.
This is a systemic, holistic approach that is designed around your needs. We look to natural solutions and products as the first choice. We can also offer choices in the latest skin care innovations available.
The idea is to give you the very best result possible for the time and money you invest in yourself.

Training and Certifications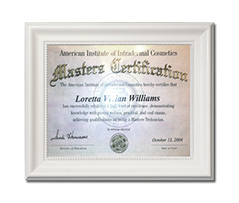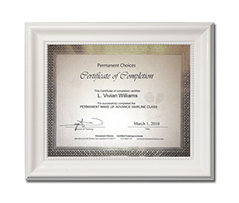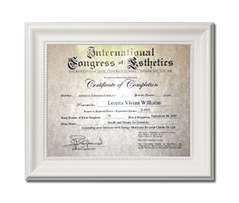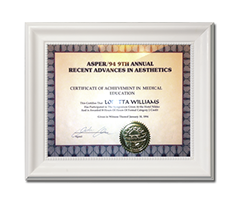 Loretta personally performs or oversees all procedures. We are consistently training and updating certifications for new procedures and the latest treatments.
1000 5th Avenue (second floor)
San Rafael, CA 94901
Call for an appointment
415-458-8739
We are downtown in
San Rafael with easy parking and a full service Salon.
Click on the map on
the left for directions.
By appointment only
Tuesday - Friday 10 am — 7 pm
Saturday 10 am — 5 pm

Popular Skincare Products
I select the products I carry very carefully, and use them in my treatments. You can purchase any of these products directly from me. Soon, you will be able to order more supplies here.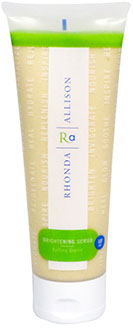 With a pleasant aroma and deep-cleansing capabilities, Brightening Scrub supports an even skin tone and exfoliates surface dead skin. Supports and enhances any home brightening program for a deep polish and glowing complexion.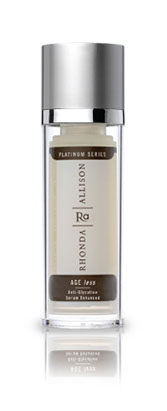 The superior benefits of Rhonda Allison's unique serum is not a "miracle" ageless wonder product – it is a very complex creation that has a goal to support skin in aging less. With continued long-term use a skin will begin to slow its aging process and maintain a healthier appearance. As well the name defines the very pulse of this formula as one that is designed to reduce AGE anti-glycation end-products.
Pumpkin has a high content of vitamin A and beta carotene, two potent antioxidant ingredients. Combined with natural surface lipid reducers and essential oils, this natural, all-purpose daily cleanser not only provides a wonderful pumpkin spice aroma, but is gentle enough for ultra sensitive skin while providing a deep pore cleanse. Great for normal to oily skin types; may be mixed with Milk Plus for a creamy, luscious cleanse.
This is an excellent daily glycolic herbal-based cleanser that lathers as it is worked into the skin. Extremely beneficial for thick, oily, impure, blemished skins, Glycolic Herbal Wash leaves the skin squeaky clean while alpha hydroxy acid softens skin cells and reduces surface build-up.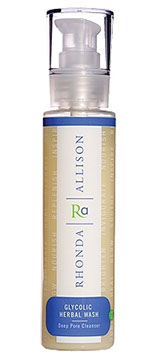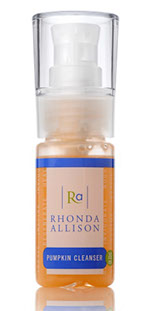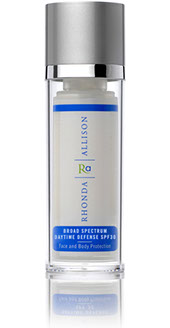 Rhonda Allison's Daytime Defense SPF30 is an ultra-refined complex; perfect sun protection providing a continuation of good skin care. Giving skin support to guard against environmental pollution, the moist mineral-cream base glides on skin for soothing moisture protection you will feel all day. A must for your daily skin care, Rhonda Allison's Daytime Defense SPF30 is a broad-spectrum sunscreen for all skin types. Using Zinc Oxide to provide a natural sun barrier, this pure and clean formulation protects the skin while providing antimicrobial, antioxidant, and soothing, healing support.
By appointment only
Tuesday - Friday 10 am — 7 pm
Saturday 10 am — 5 pm

Get Directions
e-mail